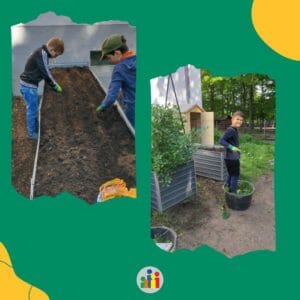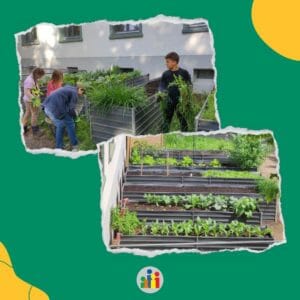 Successful start into the third garden season!
With a lot of dedication and a considerable amount of anticipation, the students started their now third gardening season. They were able to draw on their experience from previous years
If you want to find freshly harvested kohlrabi on the buffet in the refectory for a longer period of time, then it should be planted in a staggered manner. The first harvest is due in a few days. There are children here and there who watch the plants grow almost every day
In this gardening year there is a lot to marvel at and fresh lettuce has already been harvested for weeks
One realisation: rocket and tomatoes can sow themselves and then grow magnificently. This was by no means the plan, but everyone was able to learn something
For the summer festival, lovage and chives have already been harvested, dried and prepared in small jars for sale. Rosemary will follow. We will also dry some of our sage so that we can brew delicious sage tea in the groups in autumn/winter
It is well known that there are fewer little gardeners during the summer holidays. This led to an adjustment of the planting plan. Cabbage, pumpkin and beetroot can grow and flourish until the end of August, beginning of September. In the autumn they are then
With increasing self-confidence, the pupils take over their vegetable garden care. Independently, the 20m water hose is connected and the beds are watered. Of course, our little gardeners know their way around and know exactly that certain plants do not like water from above, on their leaves
For the first time, potatoes have found their way into a raised bed. Whether these will end up with Tobi, our cook, in autumn or whether they will become fire potatoes as part of the experiential education programme has yet to be discussed. Until then, the potatoes have plenty of time to grow and our students have time to gain more experience and enjoy the school garden.